My housemate's beautiful friend Carmen makes scarves. Hand painted hand created illustrated silk scarves. Storytelling scarves to finish an outfit. They are absolutely beautiful and unique - a timeless product that will withstand trends and fads. Lately I have been interested in cutting down on fast fashion and reducing my wardrobe to basics and more timeless pieces. I decided to interview Carmen about her Farawen Silks, and what inspires her work.
Watch this absolutely breath-taking video of the scarf-making process!
Tell me a bit about your background growing up, and your hobbies.
I've grown up in Bath, England. I spent a lot of my time growing up with my family visiting art galleries and theatres on holiday, which definitely influenced my choices and paths. I went on to do an art foundation and studied Theatre and Performance design in Liverpool. After working freelance for a little while I did a complete U-turn and moved to Greece for a couple of summers, worked for a diving company and met some wonderful people. Now I'm back in my hometown and following my growing passion for silk painting.
Where did the idea for Farawen Silks come from?
I first worked with Silk on a costume design project at University. I created silk jacket linings for the schoolboy roles in the musical 'Spring awakening'. I loved the expression of the paint and the ease of transferring an idea, concept, or artwork onto a wearable piece.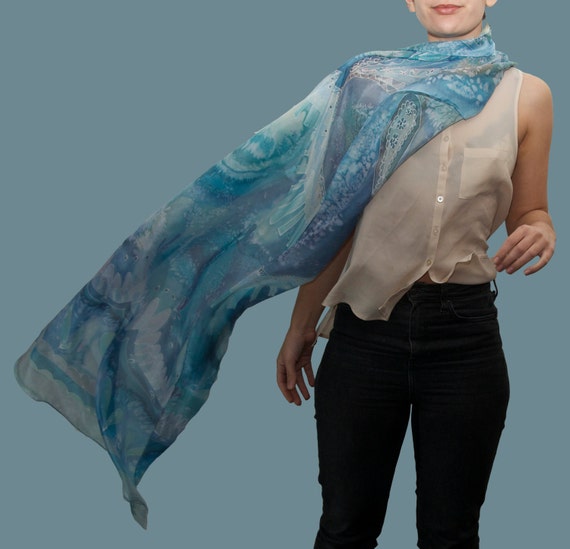 Can you describe your process for making your silk scarves? How long does it take?
I buy the silk white and on the roll. First it has to be washed, dried, sometimes pre dyed and then stretched onto a frame. I then use a gutta, which outlines the patterns and creates borders in the silk. Next I use silk dye, water, and silk to add colour and texture to the scarves. Once finished the dye is iron fixed, washed, ironed and then I hand roll the edges to create a flowing finish. A large detailed large scarf could take around 10 hours of working time.
What's the most challenging part of what you do?
Farawen silks is a very new business venture for me. So I think keeping the faith that I can achieve and grow and continue to push forward is the challenge for me.
What are your top three must have items in you wardrobe?
Mmm… my wool slippers from Greece because I have extra cold toes, a fabulous coat, (I have a weakness for them), and my knee high brown leather boots!
Do you have a life motto?
No. I see life as a work in progress.
Where do you see Farawen Silks in 5 years time?
I plan to have my own workshop and art retail space! Watch this space!
Do you have any advice for people wanting to peruse a creative business idea?
You won't lose anything by trying, so go for it!
Farawen Silks ships worldwide, so if you're looking for the perfect present for Mother's Day, a birthday or just a gift for that special someone, look no further :) Farawen Silks scarves are available in the
ETSY SHOP
and check out more photos on the
FACEBOOK PAGE
.
Have a great weekend everyone!!
x x Stace